7 Things To Know About Easter Jeep Safari
Easter Jeep Safari is right around the corner and these 7 things will help make your time in Moab more enjoyable.
By Kyle Cunningham
|
March 31, 2022
Easter Jeep Safari (EJS) is like spring break for Jeepers without the beach. This event always starts the Saturday the week before Easter in Moab, Utah. 2022 marks the 55th year that the Red Rock 4-Wheelers (RR4W) have put this event on and I have been fortunate to attend a few times now. Here are a few things that I think will make anyone's trip to Moab a success, even if it's not during EJS.
Kyle Cunningham
1. WHAT GRAND CANYON? 
Google says that five million people visit the Grand Canyon each year, to me, that means that five million people are making a huge mistake. I've been to the Grand Canyon once and have now been to Moab four times. In my opinion, the views in Moab while on the trails beat the Grand Canyon 10-fold!.
2. TENT, HOTEL, OR HOUSE?
The town of Moab seems to double in size every time I go there. More and more hotels are popping up and rental properties are becoming more prevalent. Unfortunately, that doesn't mean that the price of shelter has gone down.
If sleeping on the ground is your cup of tea there are plenty of campsites with amazing scenery all over town. If you feel like putting 200K of your Marriott points to good use you won't have to worry about making your bed in the morning.
Kyle Cunningham
Moab's average nightly hotel rate is around $175 a night throughout the year, even higher during the week of EJS. My approach for handling lodging is to use Airbnb for as many trips as possible.
There's something to be said about coming back to a house or condo after a long day on the trail, grabbing a beer out of the fridge, and sitting on the porch as the sun sets in Moab. That luxury comes at a price, though.
The week of EJS has the highest rates for rental properties of the entire year, so you might get a little wallet shock when you start looking for some. You can fight that by booking early and going in on a larger house with friends that join in on the trip.
Easter Jeep Safari
3. FANTASY FOOTBALL DRAFT FOR TRAILS
With 42 trails, with trail ratings of 2 to 9, being run over nine days, there is plenty to choose from, depending on your style. The RR4W club has done a great job putting packages together for first-timers so that you won't stress out about picking the wrong trail (designed for stock jeeps).
They even offer a Sophomore and Junior package to run more challenging trails as you build up your Jeep year after year. The real issue with getting registered is their system in place.
With the volume that their servers see, it's tough to get registered for multiple trails once it opens up online. You might be able to make easy work of it if you have three computers out at once, like a fantasy draft.
Kyle Cunningham
4. HOW TO MAKE 8+ HOURS IN A JEEP A BREEZE
Being on the trails is my biggest stress reliever, but it can become a very stressful day if you aren't prepared. Depending on the difficulty level of the trail chosen and the group size, you could be on the trail anywhere from 6-12 hours so have plenty of snickers to keep hunger at bay.
My go-to afternoon snack cooks on the manifold. Always start the day off with a full tank of fuel to avoid running out on the long trail days that can be unexpected.
The Shell gas station gives a pretty cool little goodie bag away with a fill-up over a certain amount with Moab stickers. Make sure you have your playlist downloaded to keep the tunes going all day long unless you are one of the new cool kids with XM. Taking a nice camera is a good idea, but your cell phone will work just fine so that you can send photos to your Jeep friends to make them jealous.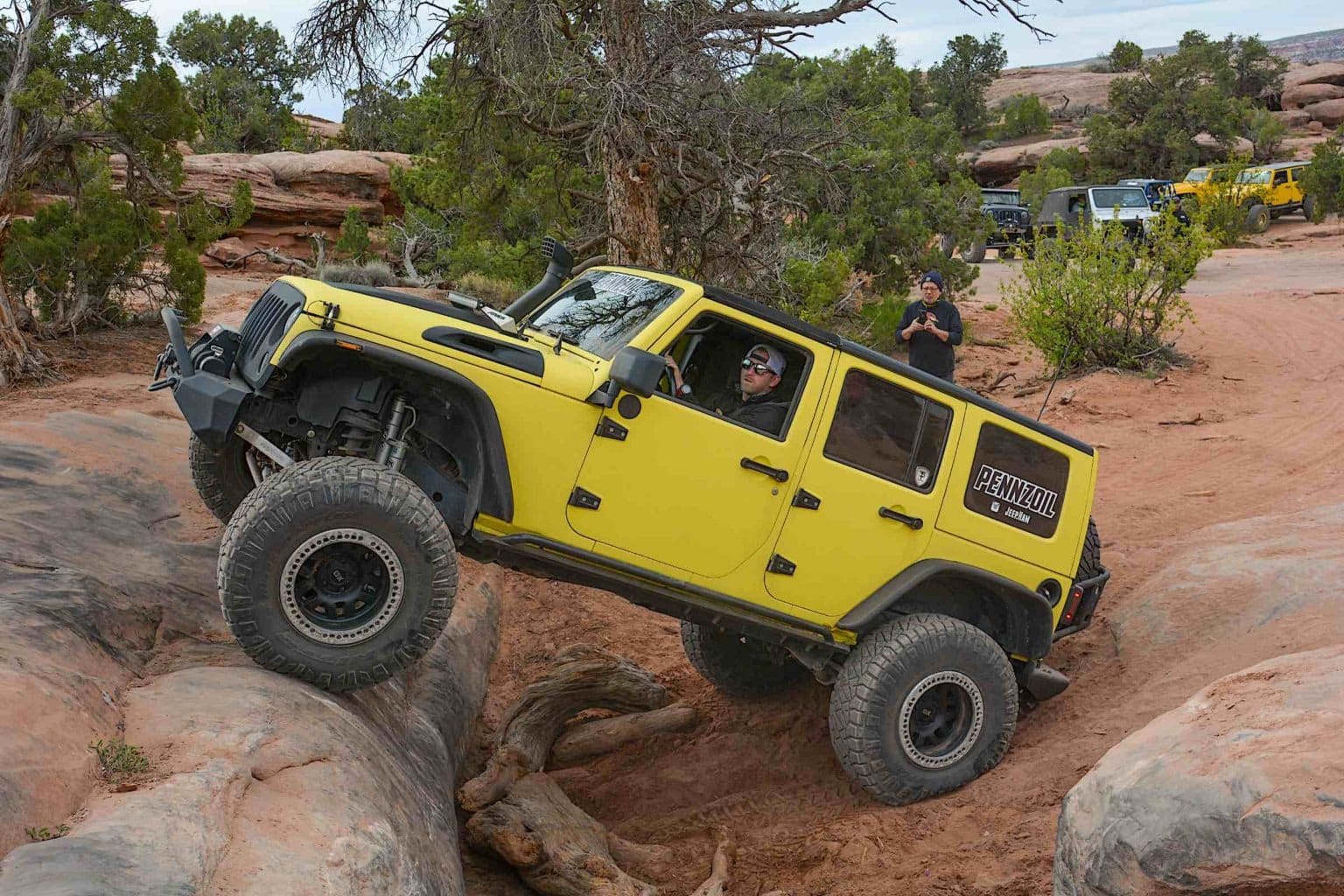 Kyle Cunningham
5. DRIVE IT AS YOU STOLE IT UNLESS YOU NEED TO DRIVE IT HOME!
If you want to experience EJS but prefer to leave your Jeep at home, over seven companies rent modified Jeeps to take on the trail. The company usually dictates what trails you can go on, and most have a maximum amount of mileage per day.
Many folks drive their Jeeps from far and wide to participate in EJS, including me in 2017! Risky business since that's your ride home, but it can be done just might wear on your nerves while on obstacles. Depending on your trail selection and how hard of a line you want to choose, trailering your Jeep to the event might be your best bet.
Kyle Cunningham
6. CARS AND COFFEE AT DINNER? 
If you have ever gone to or heard of the cars and coffee events that happen all over the country, then you will understand the following statement. Every restaurant parking lot turns into an unplanned Jeep show during dinner time, which is much needed since you will usually be waiting for a table at most restaurants.
A place you must visit at least once for breakfast is the Moab Dinner on Main Street. With the tables being covered in aftermarket Jeep manufacture marketing material, it is a fan favorite for all parties. For Dinner, you can't go wrong with the Moab Brewery's menu.
Kyle Cunningham
7. 401JK
If you are anything like me regarding the amount of time spent looking at Jeep parts, then the vendor show is something you must attend. Many parts manufacture's use EJS to either enounce new products or finally bring parts from SEMA to the customers.
Fair warning, though, you will walk away from the show, either spending some dough or making a list for future purchases. Most vendors offer show discounts to help make the decision easier.
MORE Events